I haven't been a good blogger in over the past week. Do you ever feel like you are in a slump? Or just too busy to sit down and write? I'm not sure what is going on with me ---- but I've been pretty busy at home, at work and in life so while I've been keeping up reading my favorite blogs, I haven't been writing.
I'm pretty sure that part of it is that I'm in denial that it is already August ----- and in just a few short weeks the summer is going to be over. :-(
I think I need to come up with a game plan for the rest of the month to make sure that I don't give up on my blogging. We have a lot going on the rest of this month, so I will likely be doing a few link-ups this month to keep things going too. These are the ones I've been reading and hoping around to other blogs --- I'm planning to link up for at least these 2 next week:

Monday ---- Motivation Monday Team (I'm hoping this one will set me up for the week)
Wednesday ---- Skinny Meg's WOW - Workout Wednesday
I'll also be on the lookout for some additional link-ups next week. I wanted to find a weigh-in link up but so far the only one I can find is on Wednesday, and while I weigh myself every day - I typically like to post my weigh in results on Friday's - so I have most of the week under my belt, before the weekend (and my cheat day - which is typically Saturday or Sunday).
And, just for fun - since I've been told you should always have a picture on your blog.....here is a picture from last week before going out on date night with my hubby. It's been awhile since I've felt comfortable wearing the shirt here. Finally, I didn't feel like all of my stomach was being exposed. I've lost 5lbs on my slow-carb diet. I know most of that so far is the water weight --- but I think part of it is also helping me not look or feel so bloated.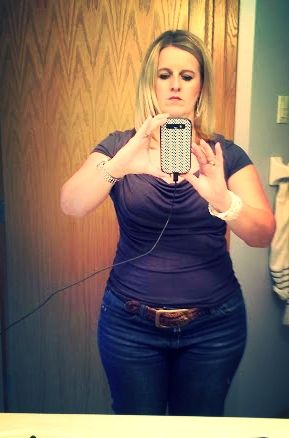 Happy Thursday!