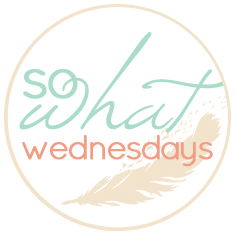 Today is another link up for me this week.....I'm on a roll, this is my 2nd one in a week. I'm linking up with Shannon over at Life After I "Dew" for So What Wednesday.
So What If......
I am getting blisters from my new shoes..........they are WAY too cute not to keep wearing and suffer in pain silently. I love my NEW Sassy SHOES!!
I slept in this morning, instead of getting up and working out........it really just means I have to do it later instead.
And then, I decided to watch part of Suits this morning before my shower, so my hair is in a ponytail for work. It is seriously my fave show right now - and I was too tired to watch it last night.
I'm so not ready for summer to be over - and I'm REALLY hoping for some 90-degree days.....we haven't had one forever, and while it has been nice, I want a few more HOT days!!!!!
I just added more chicken, salsa and black beans to my pre-made salad; I brought the rest from home and was too lazy (and my blisters do really hurt) to walk over to our big cafe with a salad bar to make a simple salad.
Happy Wednesday!!!