It's September. Wow, I honestly cannot believe the summer is already over.....but, since I watched my oldest get on the school bus this morning, I know it is true. I've been following Amber at
Crafty Healthy Mommy
and she is kicking off GYSTS (Get Your Shit Together September) and I'm on board!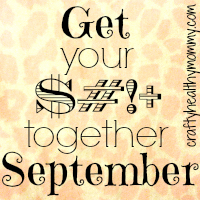 I've been doing pretty well the last month or so with my eating and exercise - but I always think there is room for improvement! With the GYSTS kickoff, I did some meal prep yesterday. I made a Black Bean Soup based on a a recipe found
here
. I didn't have all of the ingredients, so I had to tweak it slightly, but it is really good and very filling.
I also made some of my Cauliflower Biscuits (you can find that recipe
here
) and a Crustless Quiche to have for my quick breakfast or mid-morning snack. I made this based on a recipe my friend gave me when I first started cutting out white carbs and flour.
Crustless Veggie Quiche
Ingredients:
1/2 Medium Onion, diced
1/2 Red Bell Pepper, diced
1/2 Green Bell Pepper, diced
1 1/2 Cups Broccoli, finely chopped
1/3 Cup Egg Whites
4 Whole Eggs
2 oz Mozzarella Cheese, shredded
1 Cup Cottage Cheese
1/2 Tsp Salt
1/4 Tsp Pepper
Directions:
Preheat oven to 350 degrees
Spray a saute pan with olive oil and saute onion, peppers and broccoli for about 5 minutes until softened, cool slightly.
Beat egg whites and whole eggs together in a bowl and add the veggies to the eggs.
Add cottage cheese and mozzarella cheese to the eggs.
Add salt & pepper to mixture.
Pour into a sprayed 9-inch pie pan and bake in a 350 degree oven for 40-45 minutes.
Makes 6 Servings, 150 calories per serving.
Enjoy!!