I haven't been really motivated the past few weeks ---- but with a little push and accountability from
Tiffany
and her Fit 4 Christmas challenge I finally feel like I'm getting back on track.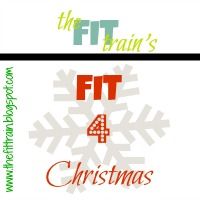 I also need to get back to meal planning. I definitely do better during the week (at home, with dinner) when I have a plan. We are so busy during the week between work and our kids activities - that often we just grab whatever is quick for dinner ---- which isn't really typically the best thing for me or my family. So, back to planning out some meals and for me to get back to lowering my carbs. I was intentional when I grocery shopped this week and I bought specific foods to make.
Yesterday I made shredded taco chicken in the crockpot.............this may be the EASIEST thing to make of all time. I took a bag of frozen chicken breasts added a packet of taco seasoning (or you could use any type of seasoning you like if you don't buy packets) and cooked it on low for 8 hours. Once it was cooked it shredded apart with one fork - and I packed it up into separate containers for meals. *It also freezes really well - so I put 2 bags in the freezer for later. This is a great (and quick) go to for us. Our girls love it on a tortilla with a little cheese for a chicken quesadilla - or chicken tacos and I put it on some lettuce with salsa and avocado for a quick salad.


I also made a crustless quiche/egg bake found
here
. And I'm going to try these
Broccoli Bites
later this week (I'm hoping to make them tomorrow). My girls love broccoli, so I'm hoping they like these!
I'm also making Cauliflower Biscuits - you can find the recipe
here
.
I also hard boiled some eggs and
these
no-bake protein balls. These are my go-to early morning "pre-workout" snacks. I have to eat a small quick snack before I go to the gym in the mornings; or my workout really suffers.
This is how I'm planning to get back on track and hopefully get to my goals for the holidays.
Happy Motivation Monday!!!!!