Happy Wednesday. I was all set to write a post on Monday for one of my favorite link-ups "Motivation Monday" with
Wendy
and her gang, but honestly - I had nothing to add. I have NOT had a lot of success losing weight ---- I have pretty much gained and lost the same exact 10 pounds forever. So, I didn't really feel like I could honestly give anyone advice on The Top 10 Weight Loss Tips. I LOVED reading all of the posts, but I have no tips. I am trying REALLY hard with my new challenge to kickstart a healthy way of life, not a diet necessarily. You can read about that here.
So, on to today's post, and it is time for another linkup that I haven't participate in for awhile, but it is always a fun one with Shannon
Life After I Dew
and "So What Wednesday"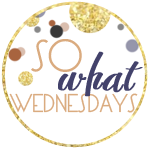 Today I'm saying So What to:
The fact that I have to sleep with my phone next to me in bed when my hubby is gone.....which he is this week, was last week and will do again in 2 weeks.....it just makes me feel better.
I let my little one sleep with me when he is gone too, again see above - he never lets our girls sleep in our bed, but for me it is nice when my "baby" wants to do it.
I have no idea what to give up for Lent, considering it starts today. With my FMD, I have already given up white flour, white sugar, white rice, cheese and all things dairy..........I'm honestly not sure what else I can possibly give up. I did consider Facebook - but then I was already on that today. It may end up being staying off ALL social media and email between dinner and bedtime; to spend more quality TIME with my girls.
I haven't worked out at my gym in almost 2 months.........I'm GOING to get back into it next week when my hubby is back in town and we can get back to our normal routines......As a side note, this winter has been BRUTAL and the very last thing I wanted to ever do at 4:30am when it was 25 below zero outside was go to the gym!
I think that is it for now.....Happy Wednesday!!!